Brand A-Z
303 (1 to 4 of 4)
---
--- This water-based protectant is equally valuable protecting boat hulls as well as flotation bags, PFDs and just about anything that's exposed to UV light. Just spray it on and wipe it off.
---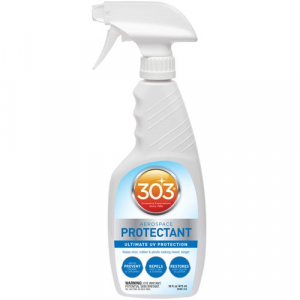 303 Aerospace Protectant is the most powerful UV screening protection ever made. Use it on lots of boating and household gear. Originally developed for aerospace and aviation applications, 303 repels harmful ultraviolet radiation and is really helpful...
---
Spray-on sunscreen for boats, paddling gear and more. Works on plastic, fiberglass, PVC, vinyl, rubber, leather and neoprene. Unsurpasssed UV-screening protection keeps materials from fading Restores "like-new" color to many materials Easy application...
---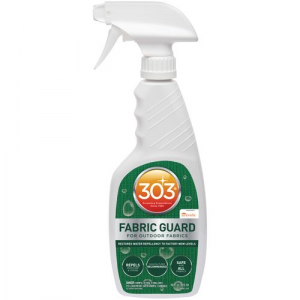 Powerful enough to protect fabrics in the harshest environment... outdoors. 303 High Tech Fabric Guard(TM) helps keep your gear looking and performing like new. Restore lost water repellency and stain repellency without affecting the breathability of...
---
303 Products 303 Aerospace Protectant 1 Gallon.. 100% prevention of UV caused slow-fade.. Powerful UV sun-screening surface treatment.. Protects vinyl.. TOT030370.
---
Lifetime Warranty with Proof of Purchase. Brand New. Please use the year/make/model drop down bar and interchangeable part numbers to confirm compatibility.. Our replacement ignition coils are easy to install with the highest quality copper.. Each coil...
---
Provides long-life performance for today's longer drain intervals. Effectively removes contaminants, with a 99.6 percent Multi-Pass Efficiency Rating and an advanced synthetic fiber blend media. Holds double the contaminants versus the leading brand,...
---
(Eight) 8 batteries Energizer brand name only in original blister pack !!!! replaces lr44 and all numbers listed in title. buy a brand name and will last longer.
---
40 batteries Energizer brand name only !!!! replaces lr44 and all numbers listed in title. buy a brand name and will last longer.
---