Brand A-Z
Best Way Tools (1 to 1 of 1)
---
---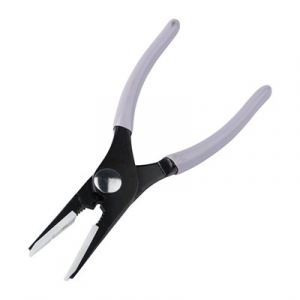 These soft jaw pliers help prevent marring during gunsmith work. Great for use during inspections, cleaning, polishing, or parts installation. Soft jaws are held in place by a small phillips head screw, and are easily replaceable should they become...
---
Compact multi-purpose wet vacuum delivers thorough deep cleaning (Not a Steam Cleaner). Powerful spray and suction clean and help dry in one step; stores ready to use. Built-in hot-water heater for enhanced results; separate clean/dirty water tanks. Flexible...
---
Battery-operated combination smoke and carbon monoxide alarm. Photoelectric smoke sensing technology & electrochemical CO sensing technology. Simple to use silence/test button; low battery warning; Does not contain voice feature. Includes 2 AA batteries;...
---
Wink allows your diverse collection of smart products to speak the same wireless language so you can easily control them from the free Wink app. Auto-discovery and a revamped setup process make getting your smart home up and running easier than ever....
---
GROOM YOUR BEARD LIKE A TRUE GENTLEMAN! - A man's beard is a symbol of dominance, style and way of life. That's why you need a professional beard grooming and conditioning product to make sure that your beard is healthy and epic! The Prophets and Tools...
---
FAST & EASY CLEANING TOOL: This silicone bottle brush is guaranteed to keep your bottles sparkling clean and germ-free with little to no elbow grease! Works better and lasts much longer than plastic/ nylon bristled or sponge brushes.. CLEAN HARD-TO-REACH...
---