Brand A-Z
Boeshield (1 to 5 of 5)
---
---
Boeshield T-9 Aerosol Chain Lubricant, 12 Oz.
--- Boeshield solvent and paraffin wax formula penetrates, cleans and displaces moisture.
---
T9 is a unique solvent parrafin wax formula that penetrates, cleans, and displaces moisture. Dries to a thin film that lubricates and protects for hundreds of miles. Will not wash off or pick up dirt. Application: Apply and allow to dry for 2 hours or...
--- T-9 flushes out dirt and old lubricants, displaces moisture and penetrates moving parts in between the rollers and pins on drive chains, carrying the paraffin formula deep into these areas and coating them thoroughly. T-9 dries to a clean, continuous...
---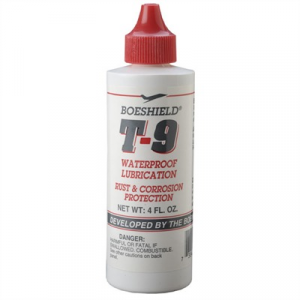 Developed by the Boeing Co. for protection of aircraft parts and components. Paraffin wax and special lubricants in a solvent base penetrate into the metal pores and dry to a thin, waxy film. Creates a very slick, dry surface that displaces moisture;...
---