Brand A-Z
Boeshield (1 to 5 of 5)
---
---
Boeshield T-9 Aerosol Chain Lubricant, 12 Oz.
--- Boeshield solvent and paraffin wax formula penetrates, cleans and displaces moisture.
---
T9 is a unique solvent parrafin wax formula that penetrates, cleans, and displaces moisture. Dries to a thin film that lubricates and protects for hundreds of miles. Will not wash off or pick up dirt. Application: Apply and allow to dry for 2 hours or...
--- T-9 flushes out dirt and old lubricants, displaces moisture and penetrates moving parts in between the rollers and pins on drive chains, carrying the paraffin formula deep into these areas and coating them thoroughly. T-9 dries to a clean, continuous...
---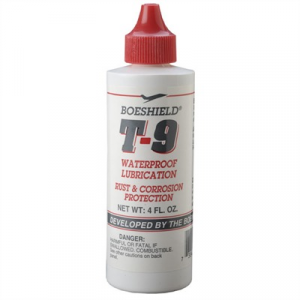 Developed by the Boeing Co. for protection of aircraft parts and components. Paraffin wax and special lubricants in a solvent base penetrate into the metal pores and dry to a thin, waxy film. Creates a very slick, dry surface that displaces moisture;...
---
Boeshield is great for use in Marine, Bicycles, Automotive, Tools and Aviation. Boeshield loosens rusty and corroded parts and is safe on paints, any metal surfaces, plastics, and vinyl. T-9 flushes out dirt and old lubricants, displaces moisture, and...
---
Works in a variety of spray can lubricants and cleaners. 7" straws. Bendable straws. FREE SHIPPING. .085 inches or 2.16mm OD (outside diameter).
---
Three-product package contains T-9, Rust Free, and Blade and Bit. Long-term metal protection. For all tool surfaces. Dries in minutes. This item is not for sale in Catalina Island.
---
Heavy-duty nose. Reinforced precisely machined teeth. Strong, tough tool. Helps provide secure grip for extra tough jobs. General purpose for various maintenance situations.
---