Brand A-Z
E Case (1 to 10 of 10)
---
---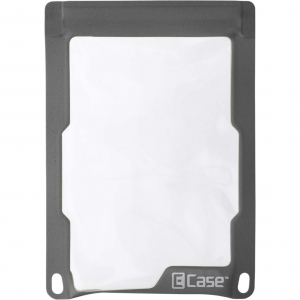 Designed for the Amazon Kindle and accommodating other capacitive touch screen devices; the E-Case Waterproof eSeries 12 Case allows you to use your device while keeping it protected from water, mud, sand and snow. Rugged RF-welded seams and UV-resistant...
--- Sheltering large smartphones and handheld game systems the eSeries 13 case is the perfect haven for keeping out the elements while maintaining full use of your device. With its low-profile dual-track SealLock zipper ensuring total submersible protection...
--- Nature`s elements and electronics don`t mix and everything from your big-investment devices to your tiny memory-saving flash drives need protection from the grit grime and precip of the natural world. E-Case`s eSeries 20 case has room enough to safeguard...
--- You gear up for a day spent in nature`s elements. So should your mobile devices. The eSeries 8 case is small in size but impressive in protection and functionality. Built for smaller smartphones point-and-shoot cameras and other palmed-sized electronics...
--- Made for larger smartphones, the E-Case eSeries 9 Case with Jack protects your phone from the elements, while the waterproof headphone jack lets you take advantage of all your phone's audio features.
---
Whatever you want your iPad(r) tablet to be: an ebook at the coast a camera in the rain a GPS system on a boat or a cookbook in your kitchen iSeries iPad(r) case provides unhindered access to this suddenly irreplaceable necessity with zero threat from...
--- Don`t go stashing your iPhone(r) device in your pack or pocket when the clouds burst. With the iSeries? iPhone(r) case you can carry on using it with zero threat from the elements. Touchscreen-compatible windows designed around the phone`s features and...
--- From the beach to the mountains the water channels to urban jungles nature`s elements help make the adventure. Enjoy them by bringing the devices that enrich the experience. Nothing delivers complete access to your iPod(r) or iPhone(r) 4th-gen. devices...
--- E-Case eSeries Cases protect your electronics and touch-screen devices without losing any functionality. Their fully waterproof design locks out water and dirt with a pressure seal to battle rain, river, and whatever else you may come across.
--- E-Case iSeries Cases protect your Apple touch-screen devices, including iPods, iPhones, and iPads, without losing any functionality. Their fully waterproof design locks out water and dirt with a pressure seal and a waterproof headphone jack that works...
---