Brand A-Z
Good To Go (65 to 72 of 72)
---
--- With a market saturated in granola options, they knew this had to be unique. Fortunately, they've been making and perfecting granola for nearly a decade. Realized after multiplying this small batch recipe many times over, they had our newest breakfast...
---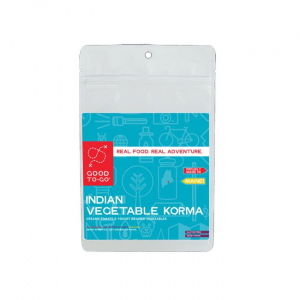 Korma is a mild spiced, creamy curry typically made with yogurt and tomatoes, often thickened with nuts or seeds. At GTG they've made a traditional Indian Curry Paste with whole toasted and ground spices, walnuts and coconut. The vegetables are cooked...
---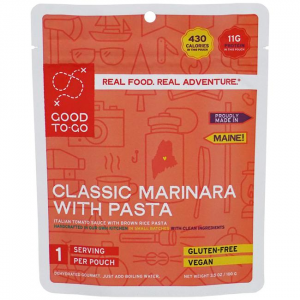 There is nothing more comforting than a steaming bowl of slow simmered marinara sauce over noodles. It warms your body and soul. Understanding that need, Good To-Go has created a pasta dish that almost anyone can enjoy. Their chef has found the most...
---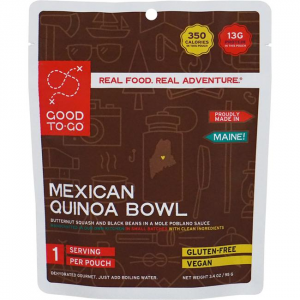 Often referred to as the national dish of Mexico, Mole Poblano is loved around the world. We make our sauce with traditional ingredients such as: ancho chiles, cinnamon, coriander and cumin, finished with organic cacao powder. Cacao powder is a high source...
---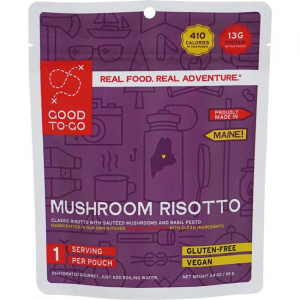 Good To-Go's risotto is made the old school way by first lightly cooking onions in olive oil. They then add the rice, coating all the grains and then add white wine. While gently stirring, they slowly add the hot mushroom stock to achieve a creamy and...
---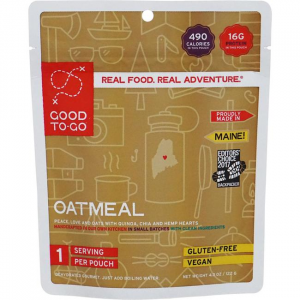 When they decided to create a line of Good To-Go breakfast options, they wanted to go back to the basicsfood that everyone wants to eat out on the trail. It obviously needed to be something lightweight, shelf-stable and healthy. Beyond that, it needed...
---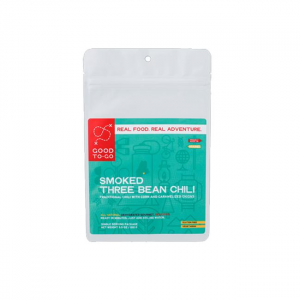 The great thing about chili is its ability to warm you from the inside out. From your first bite to your last, this chili will excite your taste buds with the flavors of sweet tomatoes, nutty beans and its gentle smokiness. Good To-Go's chili is slow...
---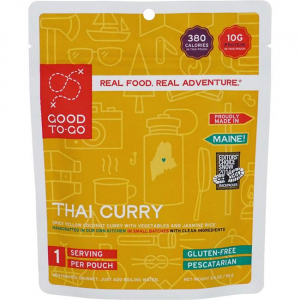 Good To-Go has created their own blend of spices and aromatics that give their Thai Curry its completely unique and delicious flavor. With the addition of Thai chilies this dish has a little kick too. They use fresh broccoli and cauliflower and cook...
---
Made with 15 certified organic fruits and veggies. Fortified with oat beta glucan, the USDA patented fiber that supports healthier cholesterol levels. Has the antioxidant power of 6 servings of fruits and vegetables in just 1 packet. Great tasting apple...
---
Contains 12 - 1.4oz KIND Bars. Sweet apples, nutty almonds, cashews, pecans and the perfect amount of cinnamon and spice.. A satisfying, nutty snack that only seems indulgent.. Gluten free, Non GMO, 0g Trans Fat, Kosher. Low glycemic index, low sodium,...
---
Location, temperature, and humidity will affect the firmness of the airbed. Airbeds will need to be occasionally re-inflated (topped off) to maintain desired firmness when used for more than a few days as vinyl tends to relax over time.. Measurements...
---
MAXIMUM POWER: 100 bulk pack of AA batteries each with 1.5 volts of power. RELIABLE: Alkaline batteries provide long lasting, reliable performance for both high and low drain devices. HOUSEHOLD NECESSITY: The AA battery is needed in a variety of common...
---
8-pack of Energizer Recharge Power Plus 2300 mAh NiMH AA rechargeable batteries, pre-charged and ready to use. The World's 1st rechargeable AA battery made with 4% recycled batteries. Delivers long-lasting power to frequently used devices, like digital...
---