Brand A-Z
Heat Factory (1 to 6 of 6)
---
---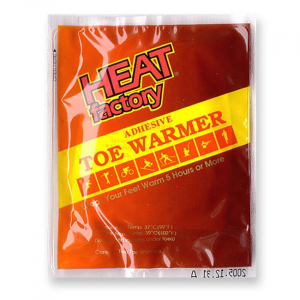 Heat Factory Warmers are soft, lightweight pouches which begin to activate and generate their own heat when exposed to the air. They can be used any time you need instant continuous warmth anytime...anywhere. Adhesive Toe Warmers last up to 5 hours....
--- Heat Factory's Toe Warmers are designed to activate in a restricted air environment like your shoe or ski boot. The half-moon shape of these soft pouches has a thin adhesive layer that holds it under your toes outside of your socks. Banish cold feet forever.
--- This pair of insoles is designed to heat up in the restricted air environment of a shoe or boot for up to 6 hrs. When placed under socks, the thin, comfortable insoles provide soothing warmth.
--- The Heat Factory warmer is a soft pouch containing a biodegradable mixture of iron powder, charcoal, salt, sawdust and vermiculite. When exposed to the air, an oxidation process takes place that generates heat. Large Warmers can heal sore muscles and...
--- Ever wonder how these little packets of goodness work? Containing a biodegradable mixture of iron powder, charcoal, salt and vermicultie (minerals), when opened and exposed to air, oxidation generates the heat. Just another reason to love science! The...
--- Popular-size Mini Warmers provide warmth for 10+ hrs. and are ideal for gloves, pockets, Heat Factory headwear or any place where soothing heat is desired.
---