Brand A-Z
Heat Factory (1 to 6 of 6)
---
---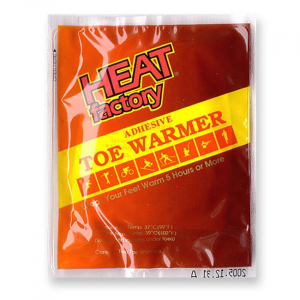 Heat Factory Warmers are soft, lightweight pouches which begin to activate and generate their own heat when exposed to the air. They can be used any time you need instant continuous warmth anytime...anywhere. Adhesive Toe Warmers last up to 5 hours....
--- Heat Factory's Toe Warmers are designed to activate in a restricted air environment like your shoe or ski boot. The half-moon shape of these soft pouches has a thin adhesive layer that holds it under your toes outside of your socks. Banish cold feet forever.
--- This pair of insoles is designed to heat up in the restricted air environment of a shoe or boot for up to 6 hrs. When placed under socks, the thin, comfortable insoles provide soothing warmth.
--- The Heat Factory warmer is a soft pouch containing a biodegradable mixture of iron powder, charcoal, salt, sawdust and vermiculite. When exposed to the air, an oxidation process takes place that generates heat. Large Warmers can heal sore muscles and...
--- Ever wonder how these little packets of goodness work? Containing a biodegradable mixture of iron powder, charcoal, salt and vermicultie (minerals), when opened and exposed to air, oxidation generates the heat. Just another reason to love science! The...
--- Popular-size Mini Warmers provide warmth for 10+ hrs. and are ideal for gloves, pockets, Heat Factory headwear or any place where soothing heat is desired.
---
► SOOTHNESS AND WARMTH - The zone Tech heated seat cover provides warmth and comfort. Perfect for cold weather and winter driving. The heated seat cover warms your back and bottom that helps to maintain your metabolism and blood circulation. Enjoy immediate...
---
V Jaws give you more points of contact on round stock and tubing. Right angle, laser heat-treated teeth grip better and last longer. Undercut tongue & groove design won't slip. PermaLock fastener eliminates nut and bolt failure. Made in the USA. Patented...
---
Teslong MS100 is a useful and fun portable USB digital microscope ideal for students, collectors, testers, and anyone interested in exploring the microscopic world. 2 in 1 USB/Micro USB Port: compatible with Windows PC and Mac, supports Android Smartphone...
---
Asymmetric heatspreader for stylish heat dissipation. Compatible with Intel and AMD platforms. Easy to install - Plug-and-Play functionality. Automatic Overclocking - reach faster speeds and higher capacities by just installing the memory, no adjustments...
---
Works great with Adafruit NeoPixel Library ,ready-to-go library & example code for the Arduino UNO/Duemilanove/Diecimila, Flora/Micro/Leonardo, Trinket/Gemma, Arduino Due & Arduino Mega/ADK, FastLED library and Raspberry Pi . The RGB LED breadboard is...
---