Brand A-Z
Helle (1 to 5 of 5)
---
---
Useful and beatifully crafted the Helle Dokka Knife looks too good to use, but it's more than tough enough to do the job without risking its good looks. The stainless-steel blade is housed in a polished birch handle with an integrated steel liner to keep...
---
The Helle GT Knife will be a welcome companion whenever you're mountain-bound. This Norwegian made blade is designed to retain its sharpness, and it's composed of a durable triple laminated stainless steel. At just over nine inches long, the Helle GT...
---
Whether you're hunting for massive bucks or hunting for the kind of gift that will be a prized possession for a lifetime and for generations to come, the Helle Harding Knife has you covered. This traditional barrel handle hunting knife looks old fashioned,...
---
The Viking is a revision of a Helle classic that was produced as part of a fund-raiser for an around-the-world- cruise of a Viking longship. The knife is notable not only for it?s historical interest, but also as an excellent all around utility knife....
---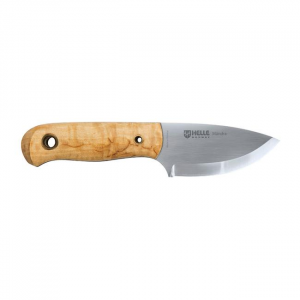 The final touches during the development of Mndra, mening proud, were carried out in the raw, remote and overwhelmingly beautiful country of Romania alongside the shooting of the latest Survivorman episodes. A triple laminated stainless steel blade and...
---