Brand A-Z
Knock Knock (1 to 9 of 9)
---
---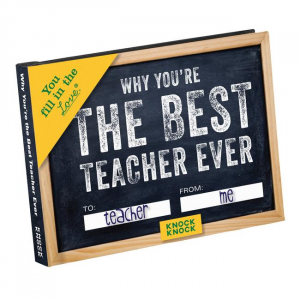 Simply fill in the blanks of this diminutive volume and voil: it becomes a personalized gift your favorite person will read again and again.
---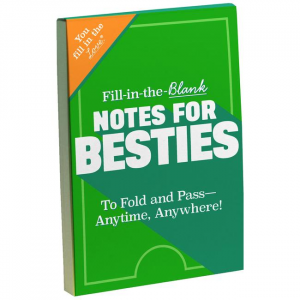 Fill in the Love Notes offer a practically effort-free way to make someones day. 5.75 x 4 inches; 48 sheets
---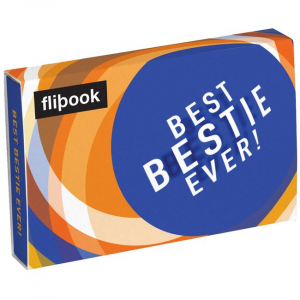 Our playful take on this old-school classic combines witty well wishes with colorful animation that seems to pop right off the page. Obviously, its a flippin great way to tell someone theyre the best.
---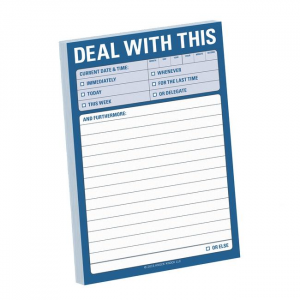 Small sticky notes are great for brief missives, but sometimes youve got a little (or a lot) more to say. Enter the newest addition to Knock Knock's sticky family. Its kind of a great big deal.
---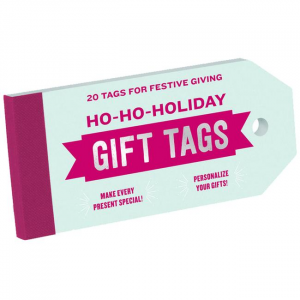 Holiday Ribbon Gift Tags answer the pressing holiday questions Who the heck is this gift for? as well as Who the heck is it from? Plus, they make every present seem special (even if its just a regift).
---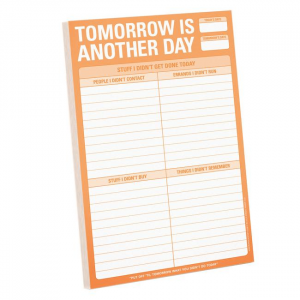 6 x 9 inches, 60 sheets; magnet on back
---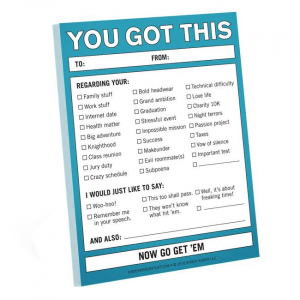 4 x 5.25 inches, 50 sheets
---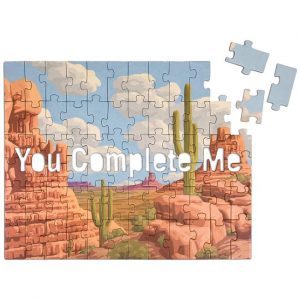 Once the outer sleeve of this jigsaw puzzle is removed, the lucky recipient sees a messagecut into the puzzle itselfis only revealed after the pieces are assembled. Its a real conversation piece.
---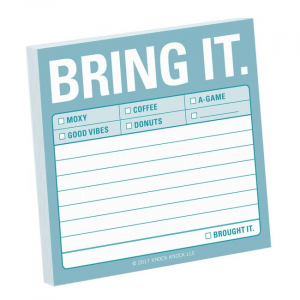 No matter your notation needs, ensure that even the smallest stuff gets noticed with Keep It Simple Stickiesjust as colorful and witty as all your brilliant (or mundane) thoughts.
---
Simply fill in the blanks of this diminutive volume and voilà: it becomes a personalized gift your fam will read again and again; make it as playful, prideful, or poetic as you please!. Hardcover with removable clear plastic jacket; 4.5 × 3.25 inches;...
---
Featuring a handy pocket-sized format, this ego-boosting title provides the perfect place to record your motivational musings wherever you go. Paperback; 4 x 5.75 inches; 160 pages; full-color throughout; ribbon page marker. Includes over 70 quotes for...
---
IMPROVES FOOT FUNCTION- For feet that turn inward or outward. Perfect for bow-leg/knock-knee leg correction, pronation and supination applications. Properly positions & stabilizes heels to relieve excess pressure on feet, ankles, knees & back. Also helpful...
---
Put your mouse pad to work!. With our plentiful paper version, you can jot notes and important thoughts in the most convenient spot-right under your hand. Keep track of your busy week, and when you've made it through Friday, tear off the proof of your...
---
All work and no play makes desktops dull, this notepad mouse pad perks up the workday (or any day), even if you're not fully caffeinated. Best of all, when you've filled a sheet with your brilliance, you get to start over clean and fresh!. Tackle the...
---