Brand A-Z
Twentytwo Designs (1 to 11 of 11)
---
--- The TwentyTwo Designs Axl has the adjustability and stability of previous Telemark bindings while also adding in a free-pivot design. You still have the same stiff stability afforded by a 6-point attachment along with adjustable pivot points that allow...
--- TwentyTwo Designs' all-metal Coil Leash lets you stay clipped-in when you're submerged in powder or when you have to step over to fix a friend's mechanical problem.
---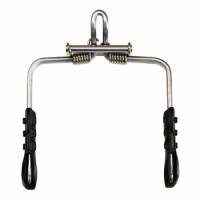 The Outlaw Ski Binding Brakes hold your ski on place, whether you're stepping in or in case of release. Available in two sizes, make sure the waist of your ski is less than or equal to the brake width.
--- The Axl sports a bombproof, six-hole mounting pattern, long-lasting chrome die springs, and a front assembly built of tough stainless steel. 22 Designs took advantage of a unique beta test program to gather input from hundreds of skiers and used the experience...
--- The Softie Spring Kit is 18 percent softer than the stock springs on your Axl or Vice. Avaliable for size small only.
--- These springs are 15% stiffer, for 22 Designs' size large Axl and Vice telemark bindings only.
--- The Outlaw brakes for Twenty-Two Designs ski bindings hold your ski in place, whether you're stepping in or in case of release.
--- The 22 Designs Outlaw Stiffy Springs step up your Outlaw's stiffness by 20%.
--- 22 Designs Outlaw X is an updated NTN tele binding with easier step-in and out, lighter weight and improved durability. Still built with sweet flex, copious spring travel, rugged steel construction and blazing up and downhill performance. An underfoot...
--- Incorporating features of the bombproof Axl but designed as a resort skiing binding, the Vice provides three pivot positions to dial in to your skiing style and the snow you're on. TwentyTwo Designs improved on the solid active design of the HammerHead...
--- Built on the HammerHead's proven chassis, the Vice Telemark Ski Binding from TwentyTwo Designs is the new standard for tele skiing. Constructed with a solid one-piece toepiece, you get ultra-smooth turns and a solid performance. Six-hole mounting pattern...
---