Clipper Detachable Leash Attach or release your tool in one swift and simple movement with Petzl's Clipper Detachable Leash. Your wrist will be protected from abrasion by the foam-padded wrist support while you adjust the wrist loop to your comfort.
---
Related Products Tighten the Freelock Leash by Petzl around your wrist or release it in a single movement. Attach it to any ice climbing tool with a hole in the head or shaft and your wrist will stay comfortable with the foam-padded wrist support.
---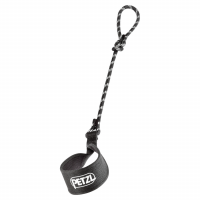 The Petzl Linkin Ice Axe Leash is a comfortable removable leash for avoiding loss of the ice axe. It's adaptable to all types of ice axes equipped with a hole for the passage of a carabiner or sling.
--- Replace old or worn out picks for your Petzl SumTec ice axe with the Alpix Pick, or just have a spare on hand in your rack for those just-in-case moments. Crafted with stainless steel, this curved pick is perfect for technical alpine climbing and provides...
---