Clipper Detachable Leash
Attach or release your tool in one swift and simple movement with Petzl's Clipper Detachable Leash. Your wrist will be protected from abrasion by the foam-padded wrist support while you adjust the wrist loop to your comfort.
---
Related Products Tighten the Freelock Leash by Petzl around your wrist or release it in a single movement. Attach it to any ice climbing tool with a hole in the head or shaft and your wrist will stay comfortable with the foam-padded wrist support.
---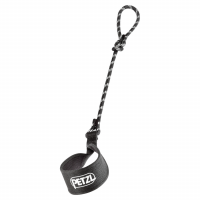 The Petzl Linkin Ice Axe Leash is a comfortable removable leash for avoiding loss of the ice axe. It's adaptable to all types of ice axes equipped with a hole for the passage of a carabiner or sling.
--- Replace old or worn out picks for your Petzl SumTec ice axe with the Alpix Pick, or just have a spare on hand in your rack for those just-in-case moments. Crafted with stainless steel, this curved pick is perfect for technical alpine climbing and provides...
---
Material: Aluminum + Rubber , Loading Capacity: 50kg. Tyre Size: 26 * 8.5cm / 10.24 * 3.35in(D * T) , Kickstand Diameter: 2cm / 0.79in. Kickstand Height: 44cm / 17.32in , Crossbar Width: 24 - 42cm / 9.45 - 16.54in. Aluminum kickstands, very sturdy and...
---
or use with Wahl Trimmer model numbers starting with 5598, 9816, 9818, 9854, 9855, 9860, 9880, 9880, 9937, 9994.
---
Multi Magnifying Lenses:1.0X, 1.5X, 2.0X, 2.5X, 3.5X, for your different needs.5 pieces of lenses in different manifications is really a good gain and enough.The movable lens slot can adjust the distance between your eyes and lens for different needs.....
---
GREAT HELPER FOR KITCHEN TASKS: The blades are ultra sharp, it performs extraordinarily well in all major kitchen tasks, such as cheese, poultry, seafood, pizza, salad, crab, cutting meat, chicken, bones, vegetables, fish, various foods, herbs, etc. Multi-functional...
---