Crevasse Rescue Kit Be equipped and ready for glacier travel with the Crevasse Rescue Kit from Petzl. Make sure everything is organized and together before you head out with printed visuals on the inside of the storage bag. This kit provides the utensils to execute a quick rescue of your fallen companion. The kit includes: 2 locking carabiners, 1 Mini Traxion, 1 Tibloc, 1 oscillating pulley, and 1 St'Anneau sling.
---
Related Products Replace old or worn out picks for your Petzl SumTec ice axe with the Alpix Pick, or just have a spare on hand in your rack for those just-in-case moments. Crafted with stainless steel, this curved pick is perfect for technical alpine climbing and provides...
--- Attach or release your tool in one swift and simple movement with Petzl's Clipper Detachable Leash. Your wrist will be protected from abrasion by the foam-padded wrist support while you adjust the wrist loop to your comfort.
---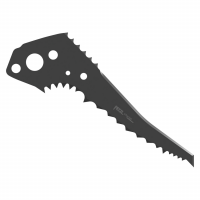 For dry tooling and extreme ice climbing, Petzl's Dry pick is compatible with the Quark, Nomic, and Ergo ice axes. This pick tapers from 4 to 3 mm and easily penetrates exceptionally cold ice while teeth on the lower allow hooking and teeth on the upper...
---