Hults Bruk Kisa Felling Axe
The Hults Bruk Kisa Felling Axe is a medium axe for chopping down trees. When you see a tree threatening your home, or maybe it's dying and it just has to be taken cAre of, bring in the Kisa for some action. The Swedish axe steel has been hand-forged providing the durability you'll need to properly deal with the tree in question. The 26 inch hickory handle is smooth and strong to hold up for years to come. The handle has been treated with linseed oil, so feel free to retreat it from time to time to keep your axe in proper shape. Included with the axe is a traditional leather sheath, so you can strike with the butt-end as needed with relative protection. Features of the Hults Bruk Kisa Felling Axe As part of the hand grinding production process, the steel is struck multiple times thereby increasing its Density and resulting in more durability of the axe The head is constructed in such a way that there is a tempered zone designed to hold a very sharp edge even after many sharpenings The curved hickory handle is treated with linseed oil Each axe comes with a traditional leather protective sheath that is embellished with some unique Swedish decorative elements The axe is shipped in its own storage box and comes with a detailed users manual
| Stockist | Catalogue Product Name | Price | |
| --- | --- | --- | --- |
| Moosejaw | Hults Bruk Kisa Felling Axe | 134.00 | |
| BobWards.com | Hults Bruk Kisa Felling Axe | 134.99 | |
Best Price:
134.00 from
Moosejaw
---
Related Products The Hults Bruks Kisa Axe is a medium-size felling axe for cutting down trees and lopping off branches.
---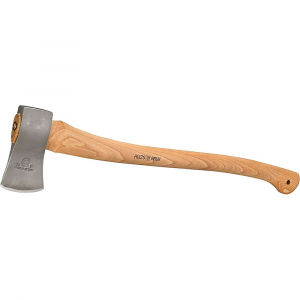 The Hults Bruk Torneo Felling Axe is a compact axe for taking cAre of small to medium trees. Whether you need to clear an Area or chop down a few trees to size to store the Wood, this is an axe that can handle the job. Be the strong man or woman that...
--- The Hults Bruks Almike Hatchet is a small, all-purpose axe that's great for making kindling, doing light clearing and other backcountry jobs.
---