Hunters Point Full Zip Made from a blend of mixed media, milled wool and woven twill, the Ibex Hunters Point Full Zip is a limited-edition jacket that features a contrast twill collar, shoulder yoke, and a comfortable, regular fit.
---
Related Products Like a herding dog, this jacket thrives on constant motion. Made of a combination of Ibex's lightest and most breathable fabrics, the Indie Full Zip is an all season staple. Grab it for a day of singletrack shredding, a week of mountain traverses or a...
--- A just-right jacket with a comfortable weight, the Ibex Northwest Full Zip is made in the US from USA Merino wool blended with nylon. A modern, versatile design makes this a jacket that has no season. It's perfect for layering whether close to home or...
---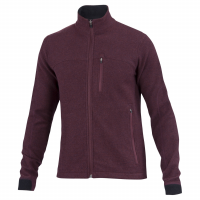 The light milled finish of the Ibex Scout Jura Full Zip camouflages just how hard the Merino fabric works in the face of the elements. Regular fit with a simple design, this jacket, named for a French mountain range is at home anywhere an active life...
---
DURABLE. Made with high quality material, ultra-light, tear and water resistant .The extra strength provided by double-layer bottom piece, enhanced by bar-tacks at major stress points makes it very convenient to carry more load on your journeys.. COMFORTABLE....
---
【Durable】- This gym bag is made of high quality tear and water resistant nylon fabric,heavy duty metal zippers and enhanced by bar-tacks at major stress points provide long-lasting durability against daily activities.The extra strength provided by...
---
Ultra Durable and Comfortable: NEEKFOX 35L hiking backpack is made from build quality thickened nylon fabric, which can stand up to more heavier loads of your travel. The s-shaped breathable shoulder straps are adjustable to fit anybody.. Multiple Compartments:...
---
★Sheath for leg,arm,belt,BCD.Save 5% Enter code PRIME019 within!. ★420C stainless steel,overall length:approx 8.5",blade length:approx 4".. ★Rugged diving knives,It came sharp and ready to use for snorkeling,fishing,swimming,boating,shallow scuba...
---
Made in: taiwan. Category name: traditional-pocket-knives. Made in USA or imported. Bob Dozier designs offer some of the best values on the market today. Blaze orange handle. Designed with 3 inches blade. Aus BA SS blade. This item is not for sale in...
---